Are you facing a problem that your Outlook account is not sending emails?
Here, we are giving you some steps to solve this.
Emails are not as tough as you think, you just do some simple thing and that is write a message, click send, and the message will be sent more or less instantly and arrive at the recipient's in a very short time and it will work just like that.
But some of you are mostly facing a frustrating experience of not sending emails. You grow increasingly frustrated that you can't contact the outside world as messages linger unsent in your outbox.. This problem is more common than you think, so here are 5 methods to fic and solve the problem of an Outlook account is not sending emails.
Try to resend the message:
Your email may not be sending for a variety of reasons, but the simplest possible fix is to try sending it again. The email may have remained in the outbox longer than usual due to a brief malfunction or sync issue.
Click the outbox in your folder list, then double-click the email that won't go away, to fix it. To see if it works, click submit again and wait a short while. If not, you could try erasing the message and starting over. If you send this second message and it still won't budge, then move on to the next fixing step. This is the very first step to fix my Outlook account is not sending emails.
Just be sure that Outlook isn't offline:
It's possible that Outlook was inadvertently switched to offline mode. This can happen if there's a temporary problem with your internet connection, and Outlook fails to go online again after connectivity is restored. You should see Connected when you glance at the status in the bottom right corner of the Outlook window. If it reads Offline, select Work Offline from the Send/Receive tab's ribbon menu in Outlook. By doing this, the mode should be deselected and the status should return to connected. This is the next step to fix Outlook account is not sending emails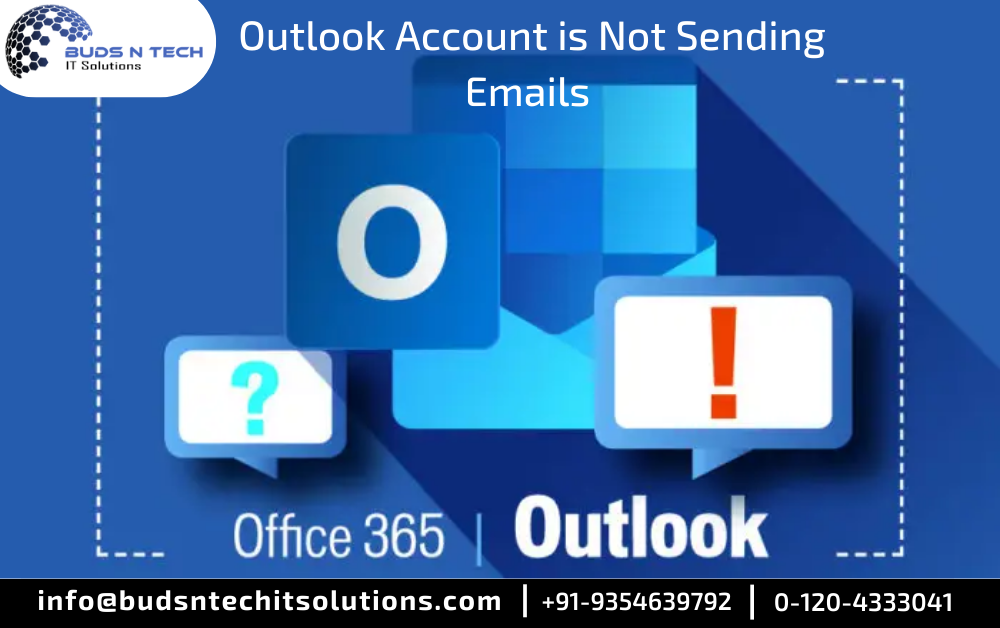 Internet connection is most important:
If the status remains unavailable, your internet connection may be having trouble. Try using the same machine to access a web page in a browser. Restart your WiFi network if you are unable to connect to the internet at all (unplug the internet modem and WiFi router, leave them powered off for at least two minutes, and then plug them in again). As soon as the network has fully reset, check your status.
Restart your outlook to fix the problem of Outlook account is not sending emails:
If you have a reliable internet connection but the email still won't leave you inbox, close and restart your outlook. Outlook leaves services running in the background, so you can't just close the window. Make sure Outlook is shut off completely by using the Task Manager.
Click Start and then type "task manager".
When you see Task Manager in the search results, click it.
After selecting Microsoft Outlook, click End task.
Start Outlook again.
Updating your profile or your Outlook:
Microsoft provides certain solutions that can fix Outlook if some of the program's components get corrupted. If you still can't send email, it might be time to try to repair the problem, which is that the Outlook account is not sending emails. Save this as a last resort because it is a time-consuming process that can take up to an hour.
Click Start and then choose settings.Type "apps" into the search bar of the Settings app, and when the search results display, select Add or Remove Programs. Scroll down the app list and find Microsoft Office (depending on your version of Office, it might be labelled differently, like Microsoft 365). Select Modify from the three dots menu on the right. Click Repair after selecting Online Repair.
These are the steps to fix the problem of an Outlook account is not sending emails.
For more details: