With the most recent upgrade for Microsoft 365, add Gmail account to outlook is now simpler.
Important:
Customers of Outlook for Microsoft 365 will gradually be able to use this new setup process for Gmail and Outlook over the coming weeks. For email setup instructions if you don't see the exact panels displayed. Here, see the post Add Gmail account to outlook.

If you've add Gmail account to Outlook for Microsoft 365 in the past. You might see a notification asking you to change your password.
Add Gmail Account to
Outlook for Windows
You must follow the same procedures whether you are adding Outlook for the first time or extra Gmail accounts.
Select  File > Add Account.

Enter your email address and click Connect.

A Gmail window will open in Outlook and request your password. Click "Sign in" after entering your password.
Important:   Once you add Gmail account to Outlook, you may receive a warning message in your Gmail inbox. Telling you that a new logon from Internet Explorer was detected. This is expected behavior.

You will be requested to input the code delivered to your mobile device. If you previously set up 2-factor authentication for Gmail. If you haven't enabled 2-factor authentication, skip stepping 6.
The Google account permissions window appears. Click Allow.
You can another add gmail account to outlook or choose Done. Once Outlook has finished adding your Gmail account.
See Use advanced setup to add a POP or IMAP email account in Outlook for PC for information. On how to add an email account using advanced settings.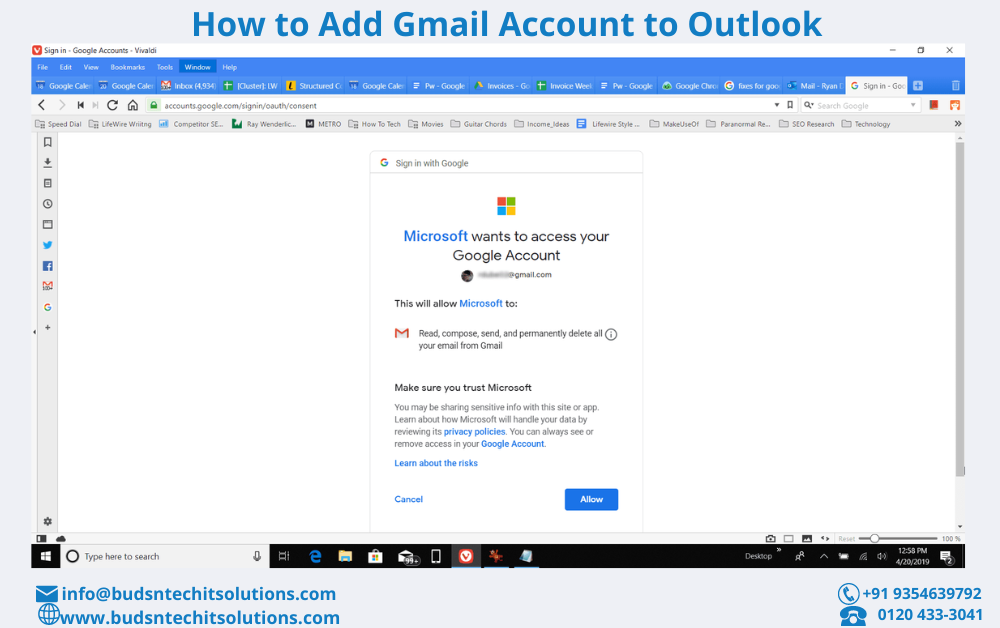 Outlook won't accept my password
You may have an outdated version of Outlook that doesn't currently support Gmail. If Outlook won't accept your password even though you're using the correct password for your Gmail account. This faster Gmail setup option. In that scenario, you'll need to help confirm that you're the person trying to access your Gmail account. By using two-factor authentication and an app password.
Gmail does allow you to add Gmail account to Outlook without setting up two-factor authentication and using an app password. But you must turn on a setting that allows "less secure apps" to connect to your account. We do not recommend this setting. We recommend turning on two-factor authentication and using an app password.
Use the steps below to enable two-factor authentication and obtain an app password.
Go to Gmail from your browser, then select the Google apps icon in the upper.

Right corner of the screen.

Select your account.

 On the left, select Security
If 2-Step Verification is OFF under "Signing into Google," click the >next to OFF to make it ON. Otherwise, skip stepping 4.
On the first screen, click CONTINUE.

Enter your Gmail password if required, then click NEXT.

Choose whether you want to get your verification codes by text message. Or phone call after entering your phone number.Then click NEXT.

After submitting the code, click the Next button.

To complete setting up 2-step verification, click TURN ON.
By clicking the left arrow at the top of the screen next to 2-Step Verification, you can go back to the previous screen.
To Know More Related To OUTLOOK EMAIL SERVICES:
Contact Us: +1-8886410129, 0120-4333041